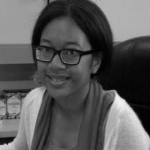 Francesca Lyn is a PhD student in the Media, Art, and Text program at Virginia Commonwealth University. Throughout the fall and spring, she will be writing about her experiences researching and writing on the comic arts.
I've been struggling with writing about my experiences as a graduate student who studies comics. In early October 2014, I attended the Small Press Expo (SPX). SPX is an independent comics festival held once a year in Bethesda, Maryland. This was my second year attending the festival and my first introducing myself as a comics scholar. I had a wonderful time and even got to meet the great Lynda Barry. Since I was at a comics-related event most people in attendance didn't blink when I identified myself as someone in graduate school that was studying comics and writing papers about them. However, this is usually not the case. Most of the time people are surprised that there are people who study and write academic paper about comics. Some people think that is really weird. Other times people understand that I write about comics but are surprised to learn that I am not focusing on mainstream superhero comics.
My research interests center on comics and autobiography. Specifically, I am most interested in graphic memoirs written by women. My focus on autobiographical comics stemmed from meeting comics artists who made diary comics. Diary or memoir is sometimes perceived as being a feminized form so I thought that looking at women who chose to create them would be something valuable to investigate. In case you were wondering, some of my favorite autobiographical comics are Lynda Barry's One Hundred Demons, Alison Bechdel's Fun Home, Gabrielle Bell's The Voyeurs, and Marjane Satrapi's Persepolis.
This semester I am applying for degree candidacy. That means I am getting ready to write my dissertation so I need to write a research proposal as well as fulfill a few other requirements. After spending some time with the autobiographical comics genre I decided that my research should be focused on autobiographical comics written by women of color. I noticed a substantial lack of scholarship written on how contemporary comics portray race and racism, particularly from an intersectional feminist perspective. My project will explore this by looking at five small press autobiographical comics written by women of color. Before I actually start writing my dissertation I will need to complete a bibliography exam and show proficiency in an outside competency.
The bibliography exam is based on a list of sources I have compiled in consultation with my dissertation committee. I will have to answer essay questions based on the sources on this list. My primary area of research is comics and popular culture. I am looking at a lot of comics criticism as well as various comic studies methodologies. Right now I am about halfway through Jean-Paul Gabilliet's Of Comics and Men. Besides comic scholarship, the rest of my readings center on trauma, gender, and critical race studies. While I am only limited to twenty to thirty critical sources for my actual exam, I expect to read many more by the time I am actually drafting my dissertation. The bibliography exam is more of a starting point and a chance to show the depth of knowledge I have in my area of research.
For my outside competency I am creating a diary-based minicomic. The committee will review the outside competency as well as the research proposal at the prospectus defense. Minicomics are small, usually self-published comic books. Many cartoonists produce minicomics and distribute them themselves. They can serve as a sort of calling card for the cartoonist's work. I thought it was important that I show that I understand the process and work that goes into actually creating comics. It's important to me that comics are seen as actual, physical objects of cultural production. I've made two minicomics before; both were created and printed at the Sequential Artists Workshop (SAW). SAW is a comics school in Gainesville, Florida. I owe pretty much everything I know about creating comics to SAW. It is a wonderful place and one of the reasons why I decided to study comics academically.
I'm not exactly sure how I am going to put together the finished product. At SAW my minicomics were printed on a risograph. A risograph is a type of digital printer made for high-volume printing. Anthony Meloro, one of my committee members, has offered to help with the actual production of the minicomic. I am very grateful to have an actual cartoonist on my committee. My good friend the insanely talented cartoonist Sally Cantirino [blog no longer active] has also offered to help mentor me through the process. This is probably the part I am most nervous about. Comics making always feels like it has a steep learning curve. I don't consider myself particularly good at drawing. Still, I am excited to get started and will begin posting updates in this column soon.