Dear Vern | Janelle Rebel
In Dear Vern (2020), Janelle Rebel exposes the arbitrary nature of binaries within national politics through a feminist lens. The piece uses an archive of still-active public polls taken from the office of Vern Buchanan, a Republican U.S. Congressman representing Florida's 16th district. Alongside the polls are satirical love letters to Vern written by JR (she/they). Through humor and, at times disbelief, we're pulled behind the curtain of data politics.
:::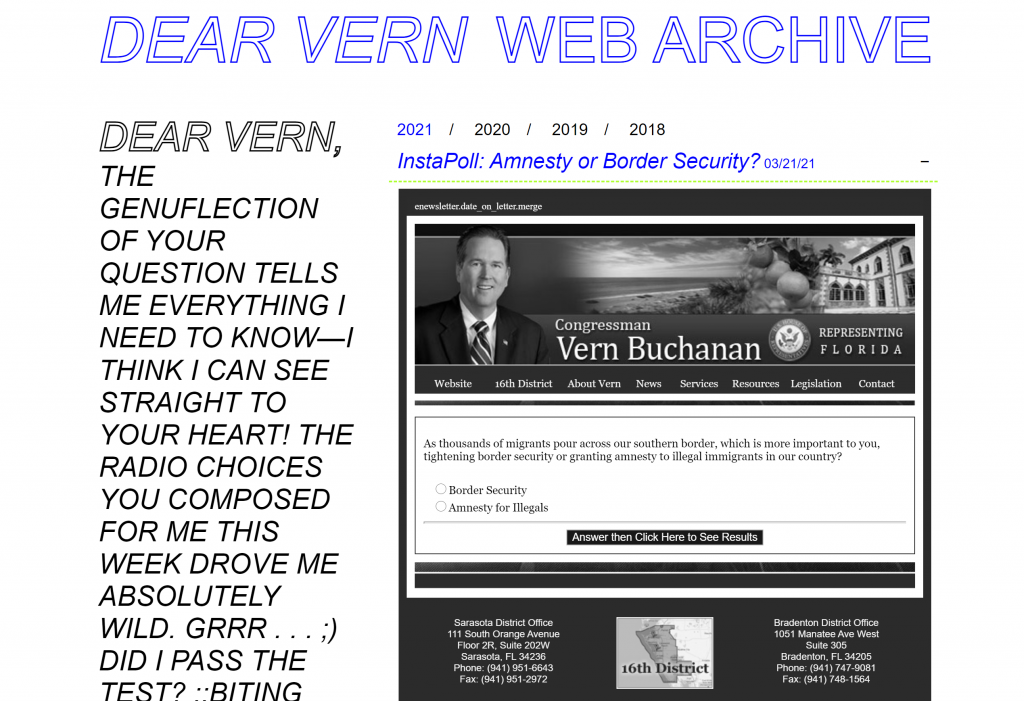 :::
Read a response to Dear Vern.
Visit the Dear Vern website.
:::
Janelle Rebel is an artist based in Sarasota, Florida. Rebel's post-conceptual activities span artist's publications, experimental bibliography, critical graphic design, theoretical writing, performance, and inclusive exhibition-making. She has an MA in Visual & Critical Studies from the School of the Art Institute of Chicago and an MLIS from Dominican University. Rebel is the head of the Brizdle-Schoenberg Special Collections Center and a Visiting Artist in the Fine Arts Department at Ringling College of Art and Design.