Flickr Friends | Kenta Murakami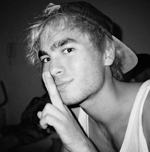 I used to spend a lot of time on Flickr. It wasn't until coming to college that I realized that not everyone lived so much of their teenage years online; at the time it seemed like everyone I knew spent their nights clicking through photostreams and scrolling through endless comments and favorites. After looking at years of photos of young artists' most embarrassing musings – images filled with their friends, boyfriends and suburban homes – it was hard not to feel like we all really knew one another. It's basically every middle-school counselor's worst nightmare, but a lot of us actually became good friends in real life. Looking back on it (it feels like some sort of past era), it's undeniable that our little online community shaped the directions of all our lives in profound ways.
I remember the first time I saw Eleanor Hardwick's photos. Her work was unlike anything I'd ever seen, all coming from a 14-year-old girl in some place fittingly called Reading. Images of her sister stuck on the laundry line or lost in some sort of distant English pastoral – each post felt like a snippet from a Michel Gondry film, but girlier, less adult. The best thing about it was that none of it was quite perfect (although at the time I couldn't imagine anything better). Her photostream was a constant exploration and evolution; a new novel from class would appear fragmented in her next shoot, a new film would color the next six month's sentiment. The results were "dreamscapes" (the words dreamy and mystical were thrown around a lot back then), filled with subtle anachronisms, fantastical narratives that, through the fissures, revealed the genius of a young girl's mind. Despite whatever Flickr was intended for, our photostreams became our blogs and diaries. Behind each of our distinct aesthetics was us, derivative and earnest, and undeniably honest.
The reason Flickr worked is that, regardless of the geographic distance, we all seemed to be going through the same things at the same time. Whether it was some form of social anxiety or our first serious crush, we'd all collectively freak out about Sofia Coppola or Tim Walker and feel relatively okay. It was a persistent reminder that there were people beyond our towns and people that seemed to get us. I remember fantasizing achingly about a roadtrip in which we'd trek to various national parks, picking up Flickr denizens from Oregon, LA, England, Australia – really anywhere and everywhere – somehow ending up in Iceland to hang out with Sigur Rós and Björk.
The thing about our online micro-utopia is that, at the end of the day, everyone I talked to did have a lot in common. We all came from a place of certain privilege (kids owning some sort of camera and computer), and we all developed our aesthetic sense through one another's photographs and collective inspirations. Our generation, of course, was also the first to grow up within social media. We were learning an entire language without any sort of clear guidance. More often than not I valued my work based on how many views it got or by who of my favorite photographers commented. And the community really was to be trusted. Our close followers had seen us grow for months, even years; our followers knew when we were pushing ourselves and when we were slacking. They also knew when we were doing something they'd never seen before. I remember looking for the voice of Tara Violet Niami in everyone's comments, her poetic criticisms felt like an art in themselves.
I don't mean to make it sound like we existed in some sort of ahistorical vacuum; we simply were able to develop our aesthetic voices before entering a more normative art historical pedagogy. The circle I followed (consisting largely of powerhouse girls) read a literature of Vogue Italia, Lula, and i-D Magazine. The result was undeniably fashion oriented; however, without the necessary resources or real need for a salary, the works veered innocuously away from commerciality. Despite this amateurism, the teens of Flickr were still unprecedentedly huge producers. I mean millions and millions of images were made (to speak of us more broadly) – images that influenced trends in magazines, that filled magazines, that adorned book covers and were stolen by clothing companies. We were huge producers, yet we were largely producing for free. We had the luxury to do so without even realizing that money was a possibility (if not the norm). To a certain extent we were just teenagers trying to fill time.
Our financial security also meant that our production came from a place of unprovoked industry, a need or impulse that allowed us to see ourselves unhesitantly as artists. We took photos because it was simply what we did. Over the last five or so years, Flickr's landscape has changed pretty definitely (seemingly cemented last May in an interface overhaul), and the community I followed found other sites to inhabit. Through Tumblr, Formspring, Omegle, or Facebook, I somehow managed to keep that community in sight, and now, it seems, this online community is taking the real world by force. Many of these artists now occupy the same cities; the illusion of indefinite friendship that clicking the "follow" button provided has eroded away, and as many move on to work in increasingly professional realms (and, of course, become increasingly financially independent), it's no longer possible to maintain the same kind of presence online. Nonetheless, I'm amazed to see how true they have all remained to the spirit of our Flickr community. Working for all types of clients, these young artists continue to prolifically produce works that blur the lines between fashion, high art, and simple snapshots to be posted on Facebook. Looking back on my time spent on Flickr, I see a beautiful collection of wildly varying narratives, tangled and then unwound, that only prove to me how easy it is to inhabit and embody the stories we tell.