Internship Opportunities Here | Monica Hunasikatti
Like so many other college students, I don't know what I want to do with my life following graduation.  I have so many dreams for the future, but nothing solid, nothing with precise assurance.  However, one thing I know for a fact is that I want is to live and thrive in New York City. Can you blame me? New York City has more class, glamour, and intensity than any other city I've been to.  Richmond, Dublin, Tokyo, London, New Delhi…none of my experiences in those cities even remotely compare to the diverse, exciting, dangerous, and unbelievably passionate city that is NYC. It seems that both failures and successes are found on every avenue and street corner. It's as if the very hopes and dreams of its inhabitants help power the city. Hopefully, when I decide to move here it will be my triumphs that add to the city's character.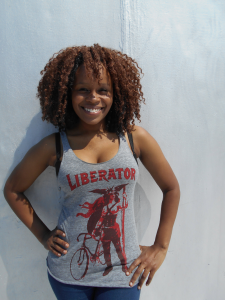 What I have been looking into is combining digital media and entrepreneurship.  My generation cannot seem to put down their electronic devices, so to me, mixing the two makes the most sense. I went through hell, emailing, applying, and calling around so many different types of places in order to find a paid internship in New York.  I'm sure I'm not along in finding that ithe process of earning a paid opportunity to shadow a person or a company is extremely competitive, which is why I was excited to see that I had been given the amazing opportunity to intern at Live Poultry-Brooklyn Apparel this summer. Live Poultry is an indie T-shirt company based out of Brooklyn that silkscreens its t-shirts and takes inspiration from various industrial complexes found throughout the city.  My internship involves constantly updating the various social media platforms that the company uses, which include Twitter, Facebook, and Tumblr.  This company has been making waves in the lower borough, selling its products in Brooklyn's famous Artists and Fleas Market and Prospect Park Farmer's Market.
Since I arrived in the city to start my internship, it has been pretty hard to ignore how technology has impacted the workforce in terms of user usage, public relations, and journalism.  Social media has quickly become one of the top marketing strategies in getting companies, businesses, and organizations noticed by mainstream media. The sheer power of Twitter and Facebook has jumpstarted so many start-ups in getting their names out to the public. Additionally, innovation and creativity is not only praised and encouraged but also critical to making one's product or service seem unique, so more and more people are taking to the Internet in order to expand their capabilities and see how far they can take their business.
My internship with Live Poultry allows me to take advantage of how social media can help improve this particular business, and so far, I can honestly say that there has been some improvement. Increased sales, more followers, and more likes have shown me that people like what they are seeing on our online platforms.  However, it is a slow process.  To move a product, one must have patience, a knack for interacting with other human beings, and the ability to enhance and make one's product better. With patience, you are able to gradually see your company grow.  You are also given time to see where you can change and tweak certain aspects of your company in order to improve its overall image and outreach methods. For example, when deciding what angle to promote your company, do you shoot for a particular age group or the sub-culture that you would like your brand to resonate towards? Can you do both?
Anyone interning with a start-up or something that requires a lot of human interaction probably depends on social media in order to move and promote their business. One example that comes to mind is from when I work in VCU's African American Studies Department during the school year. I constantly follow, favorite/like, and retweet/reblog from other students and faculty members in order to constantly be engaged with that particular community.  Again, it takes a lot of time to understand the type of audience that a company seeks to cater towards. Luckily, I believe in Live Poultry's brand and, hopefully, more people will be able to wield social media's power to their business' advantage. Social media has started to change the world and how we interact with one another, and I hope to find my career choice while retweeting, reblogging, and learning more.
Editor's Note: This essay was first published as a column in Issue No. 3.
:::

Monica Hunasikatti is an African American studies and gender, sexuality, and women's studies double major at Virginia Commonwealth University. She enjoys reading, listening to music, and watching movies and television shows. Norwegian Wood by Haruki Murakami, Kendrick Lamar, Fargo, and Suits are some of her favorites right now. Monica is a former columnists with Digital America.