/ source / (postfactual) | Timo Kahlen
Timo Kahlen's work / source / (postfactual) is an interactive net piece composed of multiple layers of sound woven into a touch-sensitive visual projection. Each experience is generated by the viewer which creates a personalized experience for the user due to the position, movement, and speed of the cursor moving across the screen. Kahlen's piece is being exhibited in conjunction with Sound Arts Richmond.
The Journal originally had the piece posted here, but due to recent encryption it can no longer be shown. To see the original piece, follow the link here.
:::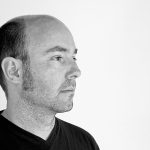 Sound sculptor and media artist Timo Kahlen (*1966) chooses to work with the ephemeral: with wind and steam, with light and shade, with pixels and dust, with sound, noise and vibration. His work has received nominations for various renowned scholarships and residencies, including the German national "Sound Art Prize" (2006), the "Kahnweiler Prize for Sculpture" (2001) and for the "Prize for Young European Photographers" (1989); as well as critical recognition at more than 180 exhibitions of contemporary media art since the mid-1980s : including invitations to "Sound Art: Sound as a Medium of Art" (ZKM | Karlsruhe 2012-2013), "Tonspur_expanded: The Loudspeaker" (Vienna 2010), "Manifesta 7: Scenarios" (Italy 2008), "Wireless Experience" (ISEA Helsinki 2004), "Zeitskulptur: Volumen als Ereignis" (Linz 1997) and his solo exhibition "Timo Kahlen: Works with Wind", inaugurating the KUNST-WERKE Berlin in 1991. Kahlen holds a Master of Fine Arts degree from the Berlin University of the Arts. He lives, teaches and works in Berlin, Germany.