In his piece Bliss of The Epileptic (2022), Mihai Moldovanu collages images found in everyday social media algorithms. Moldovanu explores how we as a society experience the "loss of control over history" since reality is too complex and dynamic to be understood. Through the juxtaposition of complex imagery and digestible media, Bliss of The Epileptic delivers a feeling "akin to the bliss some people who suffer from epilepsy experience after an epileptic episode."
:::
:::
Check out an interview with Mihai Moldovanu.
:::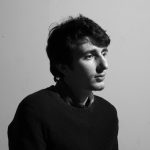 Mihai Moldovanu is an interdisciplinary visual artist working in digital and analogue mediums. Mihai's works have been dealing with ideas such as the zeitgeist, capitalism and the unconscious. He earned his Bachelor of Arts in Photographic Arts from the University of South Wales in 2017.