Gaming the University of Richmond
Games of all shapes and sizes have been integral parts of society for team building, strategizing, collaborating and entertaining purposes. Students in Professor Bezio's class at the University of Richmond used board games, video games, and game theory to examine significant concerns and issues that pertain to leadership theories and practices.
Game ON!


by Andrew Jones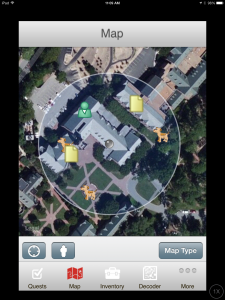 I had a chance to sit down with Dr. Bezio's class and observe their games firsthand. When I arrived, they were in the process of receiving new "achievements" for the work they had done thus far (grading is based on an Xbox-like achievement system that awards points for the work that students complete). After a brief series of announcements I was handed an iPad to begin playing around with Development Team One's game, titled Espionage and Equanimity. I was taken to a satellite map of the University of Richmond's campus and a hovering note that included some startling news: "You are the Secretary of Defense for Westhampton College. There has been peace between the two colleges for a long time now, and it is your job to prevent any attack that may be launched on your Westhampton sisters." After meeting a dog named Rufus, who was apparently working for the person responsible for an attack, I was given a series of riddles and clues to help lead me around campus and eventually discover the mastermind. It had quite a few bugs that the team was fully aware of based on their conversations within the group's blog (I had about six identical Rufus dogs on my map at one point), but I could tell that they had worked very hard on the game and that there was a lot of potential had they been given either a bigger timeframe or more robust development tools.
I then had a chance to play the second game, CSI: Richmond, which was created by a group that had bravely dubbed themselves "The A Team." Both team's games were hosted within an ARIS app (ARIS Express is a free modeling program), so the layouts were very familiar. I was playing as Dr. Bezio's player profile which featured one of her cats as the avatar, so I struggled containing my laughter as the feline hero conducted its investigation of a series of crimes on campus. At one point my player, AKA Dr. Bezio's cat, was literally strangling an officer who had been one of the culprits. I had a blast reading the dialogue options (which were much more robust than I'd imagined), and the game worked very smoothly. Very impressive.
I had a chance to speak with several members of the class about their involvement in the game development process and whether or not they were happy with the results. Alex, a Producer for Dev Team 1, said that most of the work involved narrowing down their high expectations and initial ambitiousness to fit within their time constraints (and the constraints set up by their software's limited capabilities). "It was disappointing," he said. "We had so many good ideas, but the software was a letdown."
For inspiration, Alex's group used the game Clue to help them design their own murder mystery. "We wanted people to be walking across our campus and becoming familiar with locations in real life," he said. When asked about his initial hope's for the game's future, he said that the University of Richmond's admissions office would be a great spot for a full-fledged copy of the game. "My dream game would be something that people would want to play," he said, "something that prospective students could potentially pick up and use to interact with our campus in a fun, unique way."
Faizan, the Executive Producer for Dev Team 1, was also frustrated with ARIS Express' software limitations. "It was tough," he said. "We had to struggle with the software because everything was always messed up. Even today things are all over the place because programming became an issue." When asked whether or not there was one word that could sum up his overall experience, "troublesome" fit the bill. "We had limitations on our creativity due to the ARIS software," he said. "Due to constant alterations, the final game neither as big nor as good as we'd originally expected."
One student felt proud about the results of his group's work, despite being stressed during the final stretch. "It didn't really come together until the week before," said Coleman, a Writer for The A Team. "I was scared about where it was going." He noted that he had come into the class with fairly low expectations. "[The game] was something that I didn't think would take a lot of work or time," he said. "I figured we'd just slap our ideas on paper and then make a game, but it took way more critical thought and effort than I'd ever imagined." When asked whether or not he was pleased with his group's final product, he replied, "I like how it turned out."

Final thoughts
by Prof. Bezio
The ARG – alternate reality game – project in my Freshmen Year Seminar Games, Game Theory, and Leadership Studies is the product of a recent trend in both the gaming and education industries called "gamification." Based in part on Jane McGonigal's revolutionary Reality is Broken (2011) – which we read in class – the concept behind gamification suggests that we can make our everyday lives better and more productive by introducing elements of game design into them. Games inspire us, engage us intellectually, and capture our focus for hours at a time. McGonigal argues that we can exploit this passion for gaming by introducing game elements into – by gamifying – our day to day lives.
Instead of earning grades for each assignment, including the ARG project, students worked for skill- or practice-specific achievements
This was the intention behind not only the ARG project in my FYS, but the whole concept behind the course itself, which uses a gamified grading system based on achievement points and skill sets rather than the more traditional "letter grade" system to which students are accustomed. Instead of earning grades for each assignment, including the ARG project, students worked for skill- or practice-specific achievements, such as "Huston, We Have a Problem," which granted them thirty points for posting "questions, problems, and challenges with any part of the ARG" on their team blogs. The gamified grading system is the product of collaboration with my husband, former Irrational Games designer Kirk Bezio, who also offered tips and hints to my students during the ARG process.
ARGs themselves are games that specifically interact between a fictional game and the real world. For this class project, my students were tasked with creating an ARG based on the University of Richmond campus using the free open-source software ARIS, available for iOS devices (iPad, iPod, iPhone). ARIS uses GPS tracking to allow players to "find" virtual and real elements in real-world space: virtual collectibles, bar-codes, photos, and geolocation are all available components. ARIS also allows players to interact with virtual characters, known in gaming parlance as "non-player characters," or NPCs, by trading virtual objects or engaging in conversations.
My students' goal was to make an ARG using ARIS in two teams of eight – Development Team One and The A Team. Each team was responsible for learning the software, coming up with a goal for their game, designing the game's concept and theme, and then implementing it using the ARIS platform (available through the web on any mobile device or computer). During the process, each team kept a blog to catalog their proposals and keep track of one another's ideas and contributions. At the end of the project, each student wrote a final comparative paper analyzing their contribution to their team's final product, reviewing both games, and offering suggestions for improvement.
As a part of the larger class theme of gamification, the project sought to contribute to the betterment of the real world in some way; both teams independently chose to use their game to encourage students to explore the geography of the University campus in order to make them more familiar with it, as Team One member Austin Fishstein notes in a blog post: "students will be encouraged to get out, explore and interact with campus, and attempt to win the game" ("ARIS Proposal 1"). In her final paper, Rachel Forsyth cites two of her teammates, Alex Shimozono and Pep Ruckpanich, while explaining the purpose of the A Team's game:
My team began the development process with a wide variety of goals for our ARG ranging from our producer's aim to "incorporate the history of the University of Richmond by requiring certain players to complete different quests" (Shimozono) to our main programmer's decision to establish our game as an alternative tour guide option allowing "prospective students to learn more about the school" (Ruckpanich). (1)
This concept of teamwork as a means of building community is a core component of not only gamification, but of social game theory as well as leadership studies, making the ARG project an ideal synthesis of the class themes.
Development Team One also had the secondary goal of encouraging students to work as "teams" based on the University's coordinate college system, pitting Richmond against Westhampton College. Several of Team One's members remarked in their final papers that they were influenced by McGonigal's observation that "Games help us band together and create powerful communities from scratch" (172). Canyon Teague, member of Team One, wrote in his final paper that "through using a GPS that allows multiple people to play at one time, an ARG brings the community together virtually. The goal of our game was to bring the Richmond community together with a fun and informative game" (5).
This concept of teamwork as a means of building community is a core component of not only gamification, but of social game theory as well as leadership studies, making the ARG project an ideal synthesis of the class themes. In the course of the project, students were required to stretch their creativity, engage in critical thinking and problem solving, and practice written and oral communication skills. It also – perhaps unfortunately – tested their patience, as the ARIS platform did not always perform as expected.
I chose the ARIS platform on the recommendation of Christopher Holden (University of New Mexico) and Catherine Rohloff (University of Northern Colorado), whose panel on ARIS gaming in the classroom I attended at the 2012 International Leadership Association Conference (the fact that the program is free and web-accessible were also significant factors). However, ARIS posed the biggest challenge for my students, largely due to the complexity of the things they wanted to implement in a very limited time-frame. Although they blame the software for the execution failures of their games, I expect that many of their problems are due to a lack of time spent learning the software rather than to systemic "bugs," although program failures also seem to have played at least a part in their difficulties. At the very least, ARIS proved to be counter-intuitive and difficult for the students to learn, and, as many of them remarked, took much more time to input than they anticipated.
Their struggles led me to the realization that, next semester, we will have to spend more time working specifically with the software. With a better initial sense of the possibilities and limitations of the platform, the development teams should be able to more efficiently manage their time and focus on feasible goals and gameplay ideas. Hopefully, with more precise guidance from me, the teams will be better equipped to work within the limitations and complications of the software.
The difficulties with ARIS might suggest that the project was a "failure," since the final games are fundamentally un-playable in their current states. Even so, however, from an educational standpoint I consider the project to be a success. Despite the ultimate inability of the teams to produce workable end products, the process of collaborative game design forced the students to engage critically with the practical elements of group work, problem solving, creative production, and goal accomplishment. They were able to design, if not fully execute, games that integrate virtual fictions with actual space in order to accomplish their goals, and, in theory, their projects reflect critical awareness of how games, both digital and analog, can help to change the world for the better.
CITATIONS
Fishstein, Austin. "ARIS Proposal 1." FYSDevTeam1 Development Blog. University of Richmond WordPress Blogs. 16 September 2013. <http://blog.richmond.edu/fysdevteam1/2013/09/16/aris-proposal-1/>
Forsyth, Rachel. "Making the Game to Make the Grade." Final Paper. FYS 100-02: Games, Game Theory, and Leadership Studies. Dr. Kristin Bezio. Richmond: University of Richmond, Fall 2013.
McGonigal, Jane. Reality is Broken: Why Games Make Us Better and How They Can Change the World. New York: Penguin, 2011. Print.
Ruckpanich, Pep. "What We Can Actually Make People Do in Our Quests." FYSDevTeamA Development Blog. University of Richmond WordPress Blogs. 18 October 2013. <http://blog.richmond.edu/fysdevteama/2013/10/18/what-we-can-actually-make-people-do-in-our-quests/>
Shimozono, Alex. "Alex Shimozono – Proposal 3." FYSDevTeamA Development Blog. University of Richmond WordPress Blogs. 15 September 2013. <http://blog.richmond.edu/fysdevteama/2013/09/16/alex-shimozono-proposal-3/>
Teague, Canyon. "Game Reviewer: Dev Team One (Revised)." Final Paper. FYS 100-02: Games, Game Theory, and Leadership Studies. Dr. Kristin Bezio. Richmond: University of Richmond, Fall 2013.
How did they do it?: Process blogs

Dev Team 1's Blog
Course Stats
Professor: Kristin M.S. Bezio | Assistant Professor of Leadership Studies
Institution: The Jepson School of Leadership Studies @ The University of Richmond
Course: Games, Game Theory, and Leadership Studies
Project: Building an alternate reality game using the ARIS software system
Participants: Two "development teams" for the ARG project
Some Readings/Viewings:
Reality is Broken by Jane McGonigal
Rock, Paper, Scissors by Len Fisher
Clue (1985), film
Portal (2007), developed by Valve Corporation
Settlers of Catan, board game
ARIS Software System


Students are asked to examine several impactful global and local concerns throughout the course. They discuss the relationship of game theory to their everyday lives – for example, the Tragedy of the Commons as it manifests in environmental resource management – and the way in which games use play to cause consideration of those concerns, as in a game about resource management, like Settlers of Catan. By requiring students to examine and build games, the course asks them to consider the way in which entertainment and play are actually serving important critical social roles, as well as asking them to actively use a game in order to achieve a real-world objective of their own.
In addition, the game project requires students to research the history of UR and the city of Richmond, as well as any national or global historical/social events they deem relevant to the creation of the game (such as resource management, global environmentalism, race relations, the desegregation of college campuses, or the integration of men and women in higher education). The students need to explore the geographical space of the UR campus, visit its buildings and resources, and integrate their research with their explorations.
So far, the project is still in its early stages – too soon to really tell what shape the final projects are going to take. It's our hope that eventually we'll be able to promote the games to prospective students or incoming freshmen as a way to orient themselves to the campus, but also as a way for students to engage with the history and community of the University of Richmond.
The most daunting part of the project thus far for the students seems to be the ARIS software: it isn't intuitive for them, and has posed some challenges as they try to figure out the best way to use the software to implement their ideas. They've tossed around a lot of possibilities in terms of theme and subject material, and it's clear that they have a lot of really interesting and creative concepts. I'm excited to see what they end up with at the end of it. – Professor Bezio