Imagine A Place to be Among Friends | James Murray
In José Esteban Muñoz's book Cruising Utopia, the introduction begins: "Queerness is not yet here." James Murray's Imagine A Place To Be Among Friends visualizes the "not yet here" that Munoz articulates, demonstrating how queer futurity represents endless possibility. Using Processing, Murray produces queer insignias that represent the array of queer social groups to come. The use of code becomes a generator for an existence and way of life that is always on the horizon, an ideal that is just around the corner.

According to Munoz, "Queerness is essentially about the rejection of the here and now and an insistence on the potentiality or concrete possibility for another world." Imagine A Place to be Among Friends can read as a queering of code that can create a vision of our allies–our friends. If we are to image a queer future, we are to be immersed in the aesthetics of queerness that points somewhere that is "not yet here", but is near enough that we can envision ourselves there. 
:::
:::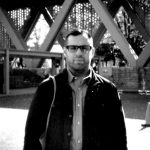 James Murray is a visual artist and music producer with a BFA from the School of the Museum of Fine Arts Boston and an MFA from the School of the Art Institute of Chicago. His work has been exhibited and screened nationally and internationally and is included in both the Kinsey Institute and the Joan Flash Artists' Book Collection. He had his first solo show, Imagine a Place to be Among Friends, at Aspect/Ratio gallery in Chicago, Illinois in the Spring of 2017.