Response to FEELS LIKE SPAM | Emma Johnson
Johnson created and composed this animation in response to Keaton Fox's FEELS LIKE SPAM, (2016) responding to themes of dehumanization in all aspects of our increasingly connected, yet disassociated, and mediated lives. Fresh Meat (2023) reminds us that not much has changed in the ironic policing of ourselves via social media and contemporary, capitalist culture.
:::
:::
Check out Keaton Fox's piece, FEELS LIKE SPAM (2016) in Issue 7 of Digital America.
:::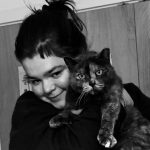 Emma Johnson is a senior art major at the University of Richmond and is on the editing and curating team for Digital America. She is passionate about animation, music, and photography.