The Motion Studies | Keaton Fox
In Motion Studies (2022), artist Keaton Fox urges us to slow down. Born from a fascination with slow tv, Fox's Motion Studies are morphing still-image sequences meant to mimic the ebb and flow of water. Fox's piece invites multiple interpretations and thus has created a digital space for anyone to stop, take a breath, and think.
:::
Keaton Fox's piece from Issue 7, FEELS LIKE SPAM, is being re-surfaced in our anniversary issue! Learn more in our Q+A with Fox.
:::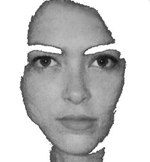 Keaton Fox is an artist from Florida.
Her works reflect and distort the varied realities of our time. Fox generates her uncanny reflections as a means to shift modern perceptions, collaging familiar and peculiar imagery into portals that offer new ways of seeing. While the pieces differ in medium, theme, and tone, they consistently invite the viewer to challenge the aesthetics shaping the fever dream that is 21st century life.
Her award-winning works have been exhibited in galleries, museums, and festivals, locally and internationally, since 2011. She is based in Chicago, IL and Miami, FL.